Mobile phone and tablet users, you need to use your MacOS Computer to download and run the TuneLings App!
You appear to be viewing this page on a mobile device. If you are seeing it on a computer, you have probably "zoomed in" to increase font size on this page. Please "zoom out" (usually by typing CMD-minus or CTRL-minus), until the page changes to show you the correct information for computers (you will see the big Download button near the bottom of the page).
If you don't have a Mac, please click here for our play-along YouTube videos, compatible with every device.
Get The Free TuneLings Application Here!
The TuneLings application is truly free – there are no ads, upsells, paid upgrades, or subscriptions.
The App incorporates a powerful special-purpose audio player with pitch and speed controls and looping, that works with most popular audio file formats (even without a TuneLing). This makes it a powerful practice tool for any musician, on any instrument!
System Requirements:
Any Macintosh computer running MacOS X 10.12 (Sierra) or higher.
If you don't have a Mac, please click here for our play-along YouTube videos, compatible with every device.
NOTE: Our previous support for MacOS versions 10.10 (Yosemite) and 10.11 (El Capitan) is at its "end of life". TuneLings playback will probably still work on these systems, but purchases from the TuneLings Store may "hang" on PayPal transactions (before charges), and some elements of the TuneLings Cloud may not work "cosmetically". Free "purchases" from the TuneLings Store will probably work, but we recommend that users of these older MacOS versions update to something newer, as soon as possible.
How to Install:
Click on the DOWNLOAD button at the bottom of this page. Open the downloaded .dmg file – this will open a window on your screen and mount a "virtual disk" on your desktop. In the window, drag the TuneLings application into the Applications folder. You can then eject the virtual disk.
How to Run:
Double-click the TuneLings application after moving it to your Application folder. (You can also put it in your dock, and generally treat it just like any other MacOS app.)
You'll be asked to confirm your intent to run an application downloaded from the Internet, similar to the illustration at right. This is a MacOS security feature (and a good thing). Click the Open button.
When the App starts up for the first time, you'll be asked for your email address. Enter it, then you'll receive a confirmation email containing a link, to confirm the address and create your TuneLings account. Your email address will never be sold, traded, or otherwise divulged to anyone.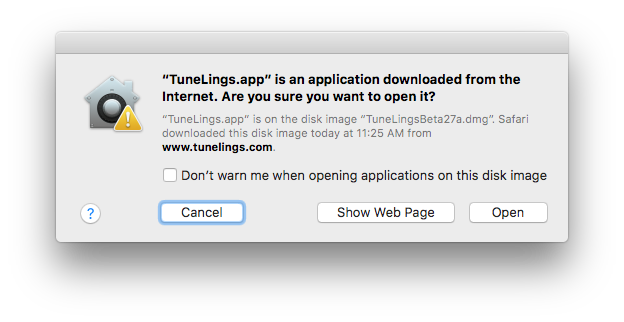 If you see a message similar to the one on the right, your Mac's security setting is set too restrictively (even Apple doesn't normally do this). You can fix this in the Security and Privacy panel of your Mac's System Preferences. Change the setting to allow apps downloaded from the App Store and identified developers (we are an identified developer), then you'll be able to run TuneLings.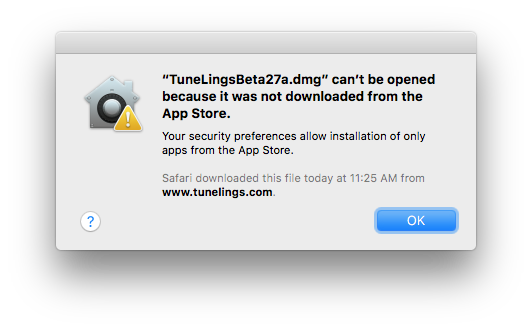 Installation Video:
If you're familiar with installing MacOS Apps, you'll have no trouble installing the TuneLings App. If you want a little extra guidance, just watch this very quick video, illustrating the process, and what to do once you're up and running. You can watch the video in full-screen mode to see the details better, if you like.
Be sure to click the big download button below the movie window – not the button within the movie!
Scroll all the way down to see it!
Click here to download the TuneLings Application: