The Beau Bow de Lune album is a collaboration between three established artists – now available in the TuneLings Store.
Val McCallum has been a working guitarist around Los Angeles for many years, and a very fine singer. He's been on-stage and in-studio with many artists, most notably Jackson Browne, and he's also one third of the most-entertaining cover band in the world: Jackshit. The other two thirds are bassist Davey Faragher, and drummer/Rock-and-Roll-Hall-of-Famer Pete Thomas – when they're not busy touring the world as Elvis Costello's rhythm section.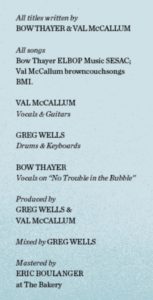 So Val and his buddy Bow Thayer (Vermont-based singer-songwriter-picker, and instrument inventor), wrote the ten songs on this album. Top-shelf producer/engineer/musican Greg Wells played, mixed, and co-produced them (Bow sang on one track too). The image of the CD's musical credits appears here so you'll believe me that a record this good can be made by a gang this small.
It's fair to call this album "Americana", though it has more breadth than any genre-pigeonhole would imply. You'll pick up influences of The Band, Little Feat, Chuck Berry, Keith Richards, Memphis Soul, Joni Mitchell, and more.
Guitar players, take note: Val McCallum is one of the most tasteful, elegant, and appropriate players you'll ever hear. In any style, he plays exactly what the song needs – no more, no less, and with tone, dynamics and phrasing to die for.
On this release, Val uses a lot of open and/or alternate tunings that, for the developing guitar player (also, some uke and mando folks), will be a revelation. But have no fear, because:
TuneLings' comments tell you how to tune your instrument, and Val's open tunings are actually simple.
Open tunings make a lot of gorgeous chords much easier to play! (This is a dirty little secret of awesome guitar players: they like to make it easy on themselves!)
Open tunings will make your guitar sound enormous, because you'll have more open strings ringing than you usually do with standard chord shapes.
So here we have a full album of uplifting, timeless, exquisitely-crafted music from three giant talents, working together to produce beauty in a time of great misery.
You don't need to play an instrument to appreciate that. But for the folks who do play – even the beginners – get ready for ten lessons on how to play with taste and soul in at least ten styles, from true masters.
We also have two superb songs from Val's 2019 solo album Chateauguay in the TuneLings Store: Ridgerunner, and Shotgun and Bombshell. Both are also co-written with Bow Thayer, and feature Shelby Lynne on harmony vocal – very highly recommended!
So what do you do if you want to play this excellent music – the right way?
MacOS computer owners, just download and install the free TuneLings app from this site, go to the TuneLings Store (it's in the app), and help yourself to these songs, and many more. Most are on a name-your-price basis (free is OK)!


The Mac-challenged can still join in! Click right here for a Youtube playlist of videos for each song mentioned on this page! Each one is a screen-capture of the running TuneLing for the song. That's not as cool as the TuneLings App experience (with speed and pitch controls, looping, mutiple views and instruments, artist comments, song structure annotations, and more), but it's still great – and free! Please tell your friends!
And you can hear 60-second audio previews of all of these songs, right here, right now!
From Beau Bow de Lune:
Reverence


Simple Isn't Easy


Open and Endless


Escape Back To Babes Bar


No Trouble In The Bubble


Funky New Thang


Seeing Trails


Brushstrokes


How Does This End


Aware

Hey, don't forget about these two killer songs from Val McCallum's 2109 album "Chateauguay" (featuring Shelby Lynne!):
Ridgerunner


Shotgun and Bombshell