Introducing: The TuneLings Sampler!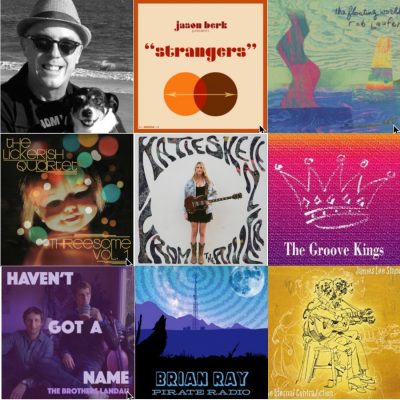 You'll find the sampler at the bottom of the TuneLings Store page, within the TuneLings App – and it's FREE, if you want it to be!
Start playing right now, with this collection of truly great songs, in assorted styles. Some are more sophisticated, and a bit challenging, and some are well within the reach of even near-beginners.
But with TuneLings, it's easy to make almost ANY song beginner-friendly – just slow it down! Start slowly, and as you develop your ability, speed it up gradually until you can do it just as fast as the recording.  The '[' and ']' (square brackets) keys change the speed of playback without changing the pitch. Be sure to check out the other keystroke commands for playback control.
Lots of these songs use a capo, sometimes optionally. So if you have one, get it out! And a few of them also have parts for ukulele or mandolin!
Want to know what something sounds like? Every song in the store has a one-minute preview available. Just find the individual song and click the play button!
Most of these artists have other songs available in the TuneLings Store, and even whole albums. If you like one, check out the rest! We plan to change the content of these samplers from time to time – so keep checking this page to see if there's something new around!
The sampler is "sold" on a pay-what-you-like basis – any amount from $0.00 on up is fine. If you get it for free now, and decide you like it and would like to show some love to our artists, just come back and buy it again for the non-zero price of your choice!
About The Songs And Artists
20 Radios – Freedy Johnston
Freedy was Rolling Stone Magazine's Songwriter Of The Year in 1995, the year of his giant hit "Bad Reputation". Freedy is incapable of writing a bad song, and while many of his are somewhat melancholy, some are actually kinda funny. This recent one is one of those, and it's a pretty easy one to play. We have a lot more of Freedy's music in the Store, too!
Pirate Radio – Brian Ray
If you've seen any pictures of Paul McCartney's band anytime in the last couple of decades, the blond gentleman to Paul's left is Brian Ray, playing guitar (and bass, when Paul isn't playing it). A very fine artist in his own right, Pirate Radio is his tribute to the way radio used to be. If you can play barre chords, you won't find this one too hard, and it's super fun.
Let The Tree Fall – James Lee Stanley
James' career spans well over 50 years, and he's put out more than 30 albums. He's a superb singer, songwriter and guitarist, and this song is a little more challenging. It's a great way to learn how those old-school folk musicians can get so much music out of a single acoustic guitar. You can slow it down, take your time, and you'll learn a lot about taking basic chord shapes, and modifying them slightly to create something really special. Capo needed!
Strangers – Jason Berk
Jason is a young LA-based phenomenon – singer, songwriter, guitarist, engineer, producer – he can do it all. This is the title track from his upcoming album, which we expect to have available soon in its entirety. This is pretty classic power-pop, shown three ways: without a capo, with a capo on the second fret, and with a capo on the fourth fret. Just wait 'til you hear the rest of that new album!
Don't Let Me Down – Katie Skene
Katie is the real deal – from Tallahassee, she's steeped in the blues and southern rock traditions, a fine guitarist, superb singer, and a songwriter of a caliber that seems impossible for her young age. She and her partner Andrea Whitt have toured as the Pre-show VIP Lounge act for Dead & Company, and she's shared the stage many times with legends of the jam band community. This song is the opener from her solo EP of a few years ago, and the whole thing is superb, and available in the TuneLings Store. There's lots here to learn for the intermediate guitarist, and the rest of that EP is equally excellent. Also, check out the "Giant Guitar View", especially in the "Guitar Break" section of the song. (You can find that in the drop down menu under the time clock in the TuneLings App.)
Bolt Of Blue – Rob Laufer
Rob is an LA-based veteran of the music biz who's worked with a long list of heavy hitters, for many decades. But in addition to his fine singing and playing, Rob is, no kidding, one of the finer songwriters walking this planet. His 2019 album "The Floating World" is a stunning collection of completely original work. This song is pretty unusual, and probably requires intermediate skills, but mostly because the chords change pretty quickly – they're not especially difficult. This song also has a lot of "mixed meter" – changing numbers of beats-per-bar, but a TuneLing makes that immediately obvious in a visual way, so you can nail it every time.
Hippie Love – Rob Laufer
We added another fine song of Rob's, to give the ukulele and mandolin folks something fun and unusual to try. If you like this or Bolt Of Blue, for gosh sakes check out the rest of his album, entirely available in TuneLings form. Ten songs, all killer, no filler.
Haven't Got A Name – The Brothers Landau
David and Daniel Landau are a cello-and-guitar sibling duo, quite unlike anyone you've heard before. This song is simply a knockout. Not super difficult, but beyond the beginner level, full of unusual chords, and exquisitely played and sung. It's quiet and restrained, but swings like jazz in its own subtle way. And you'd probably never figure it out without a TuneLing's help.
Everybody Knows – Groove Kings
Groove Kings are a Montreal-based outfit that's had a lot of success in Canada, mostly in the smooth-jazz or R&B/Soul genres. This song was a hit for them in the 90s – it's a  restrained arrangement, with a gorgeously sung vocal by Irene Marc. If you can handle barre chords, this really isn't hard at all, and it's a great lesson from guitarist Howard Forman, in how to use them to showcase a great singer.
Lighthouse Spaceship – The Lickerish Quartet
The Quartet is actually (ahem, three guys) Roger Joseph Manning Jr., Eric Dover, and Tim Smith – from the legendary band Jellyfish. Their two early 90s albums are really, truly masterpieces of pop music, and if you don't know them – CHECK THEM OUT!!! You. Will. Be. Floored. These guys have been spending the last couple of decades playing with major leaguers like Beck, Slash, and too many others to mention, but in 2020 they got back together to produce a superb 4-song EP called "Threesome Volume 1", which is fully  available in the TuneLings Store. This song is very reminiscent of the complex, rich and occasionally bombastic (in a good way – like Queen!) style of some Jellyfish classics, and it's probably not for beginners. And as always with these guys, the vocal harmonies are extraordinary. Check out the rest of the EP – if you're a power-pop fan, the word "epic" comes to mind. This TuneLing actually shows some of Eric's lead guitar parts, in the bridge section – not just chords. But you'll need to slow it down for sure, to see what he does!